Workshop on the Approximation of Solutions of High-Dimensional PDEs with Deep Neural Networks within the DFG Priority Programme 2298 "Theoretical Foundations of Deep Learning"
Participants Programme Travel Information
30-31 May 2022
University of Bayreuth, Germany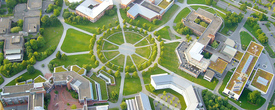 The goal of this workshop is to bring together the projects within the Priority Program "Theoretical Foundations of Deep Learning&quot (SPP 2298) of the German Research Foundation that are concerned with the approximation of solutions to high-dimensional PDEs with deep neural networks. It will take place at the University of Bayreuth on Monday, 30 May 2022, from 2 p.m. until 6.30 p.m. and on Tuesday, 31 May, from 9 a.m. until noon.

Members from 5 different projects within the SPP 2298 will present their research goals and the used methods, followed by a free discussion after every talk. Please see our separate pages for the programme and the list of participants.
Organizers:
Registration:
If you want to attend the workshop, please send an email to the organizers.
Venue:
On Monday, May 30, the workshop will take place at the lecture hall H 6 in building GEO I, while the second part of the workshop on Tuesday, May 31, will be held at the seminar room S57 in building RW I. Both buildings are located on the main campus of the University of Bayreuth.